What's New I v.4.7
Intensified Admin Dashboard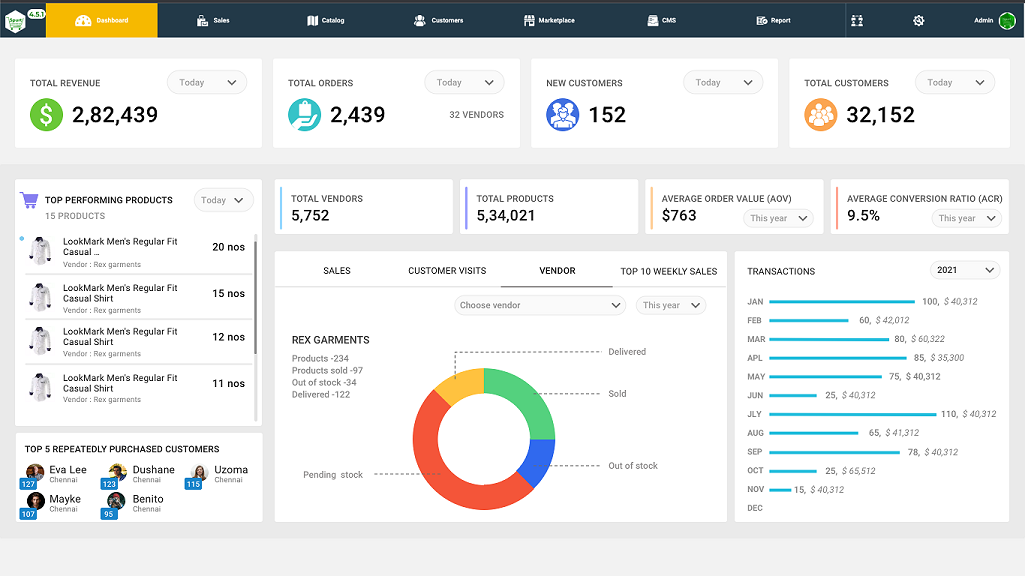 The Admin dashboard has been enhanced and improved with enhanced to get the complete over view of the entire eCommerce Portal in one single screen. We have introduced more features - Check out how sales has happened on a month-to-month basis. Know which product of a Vendor has done more sales, get to know the top repeated purchased customers, and also know the amount of transactions on a monthly basis.
Attribute Groups
An attribute group is the group of attributes by the help of which product is created. You can create an attribute group and can manage all the product features in a group. Attribute group is the collection of all product features. Before creating an attribute, you have to create an attribute group and later map the added attribute to a group.
Improved Order Detail Page in Admin
The order detail page in admin under the sales section comes with a whole new look and fee and more features. The entire UI of different aspects - changing of payment status, download of invoice, updating of shipping information and changing the order status and viewing of order history have been entirely changed to make it more explicit.
Improved UI for KPI Reports in Admin
The KPI reports in Marketplace Admin has been improved. In the sales by Vendor report, the Admin can choose a particular vendor from the dropdown. The UI of the Total sales report has been enhanced and the settlement report has been intensified to view the settlement history of a particular Vendor, by choosing from the dropdown that also comes with a search option. The Order status list can be referred for initiating the settlements.
Well-designed Vendor Layout
The header and the side menu of the Vendor Panel has been enhanced and the look has been changed for the User to get a better feel and an effective experience. A color pallet has been added for the User to choose what they like for the side bar.
Enhanced look for Vendor Page in Admin
The Vendor detail page in admin is more intensified now with different sections/tabs to view assigned categories, documents and products. This brings a more effective feel to the Admin for better management of the Vendors and their details.