What's New I v.4.6
Product Video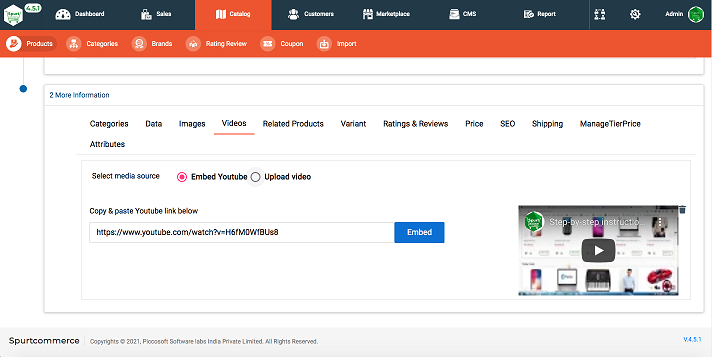 We have added the new feature of product video upload in Admin as well as Vendor. The Customers can view the product video from the PDP (Product detail page) in the Storefront.
Inventory Management and Tier Price in Vendor
The Inventory and Stock update configuration is now available in Vendor – Vendor can configure stock updates– out of stock threshold, minimum and maximum quantity for order, stock alerts, back order enabling for their products from their vendor panel. The Vendor can also configure tier pricing for offering discounts on bulk purchases for their products.
Enabling Quotation Request in Admin
The enabling of Quotation request through a form has been brought in Admin. By enabling this in Admin, the Customers in the Storefront can request for quotation on Admin Products in the Storefront.
Adding Product Attributes in Vendor
The Vendor can add product attributes that will be available from the masters added by the Admin. This is a good feature to provide specifications and more details about the product. The Vendor can select the relevant attributes for the product from the list and provide the description for the attribute, e.g., For T-shirt, the attribute will be neck style and description can be collared neck.
Product-Wise Sales Report
The feature of Product-wise sales report have been brought in Admin and Vendor. The report will show the details of Buyer's name, quantity purchased, date of purchase, original amount and discounted amount of the per item of the product and the total amount based on quantity purchased.