Another big event for the team of Spurtcommerce was on 17th and 18th of October, 2019. This was when Spurtcommerce participated in the Open Source India (OSI) Conference that was held by the EFY group at Nimhans Convention Center, Bangalore
Spurtcommerce team was pretty much excited when they got an opportunity to exhibit their in-house innovation, an open source NodeJS and Angular eCommerce Solution in the renowned OSI event. They were waiting for this big event since then. Finally, their exhibit became successful with overwhelmingly good response from the audience to this event.
On the 17th of October, it all started with a good crowd that came into the Spurtcommerce stall. The crowd was curious to know what this solution of Spurtcommerce was all about. The crowd included Freelance Developers, Developers working in Corporate, Businessmen and Students as well. The crowd was curious to know about what Spurtcommerce was all about. After hearing that it is one among the very few eCommerce solutions, built on the new and finest technology of NodeJS, the team of Spurtcommerce received a good appreciation from the crowd.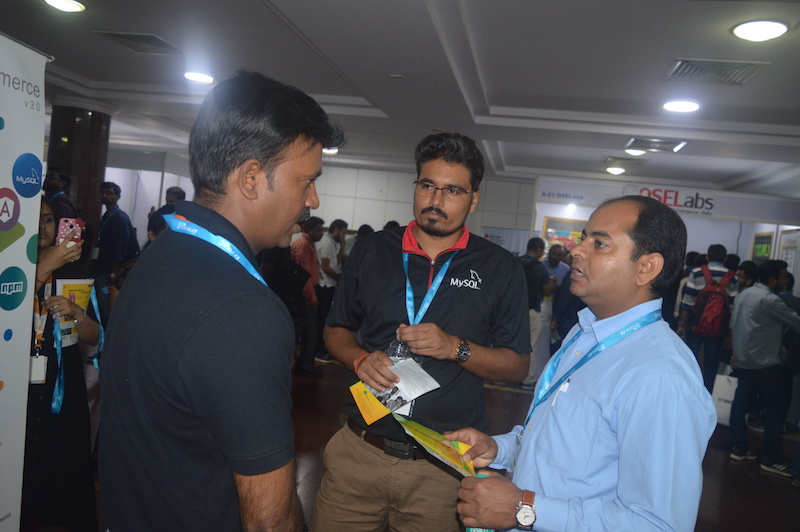 One of the Developers was pretty much excited to explore Spurtcommerce. He told the Spurt team a very interesting experience of his.
''I'm a PHP Developer and I have developed eCommerce Applications for my Clients. Initially things went very well. Now, the Clients are complaining that the site is becoming slow. Images are not able to load fast. I'm an expert in JavaScript and I shall definitely try Spurtcommerce. I will explore the Community edition and see how it works. Later, I will buy the Developers' Lite edition.''
This gave a further boost to the Spurt team, although they were happy with what they have achieved. They were happier to hear this from a real time Developer. The main purpose of Spurtcommerce is to make the web application speedier and when a Developer said that he will explore to check out if he can achieve that speed through Spurtcommerce, his words were encouraging for the Spurt team.
There was another question from one of the persons from a non-technical background. ''I'm not a technical person, I do not want the source code. Can you give me complete service of development and then support, if I want an eCommerce platform''.
The Spurt team said, we do give away the Source Code as we say it is Open source. However, we do offer you end-to-end development services. We will customize Spurtcommerce for your eCommerce need and we will hand over the live eCommerce platform to you. Also, after launch, we shall give you full support to make sure that the platform is performing well in real-time. The person was happy to know this and he took away the business card from the Spurt team, saying, he will contact them soon to get his eCommerce platform developed by the Spurt team.
Next, there was another question from the Developers' crowd. ''This is V.3.0 now. What about upgrades to the solution, how does it work? The Spurt team said, the Spurtcommerce solution will be constantly getting upgraded. On every upgrade, an intimation will be sent to the admirers of Spurtcommerce. The upgrades can be instantly downloaded.
Next, there was another person, who asked, how do you make money? People will take away your Community edition source code. How can you sustain then?
The Spurt team said, ''Yes Sir, it is not possible to sustain, when we are giving the entire source code, free of cost, to everybody. The Community edition comes only with basic features. We have Developers' Lite edition and 'Pro' edition with more advanced features. These editions are licensed editions and needs to be purchased.
There was another question, ''do you have Multi-vendor market place? The Spurt team said, multi-vendor market place will be shortly released in the next version. Right now, the V.3.0 is single business vendor.''
People were also curious to know if a B2B market place can also be developed with Spurtcommerce. The Spurt team said, ''the solution is 100 percent customizable and can be completely tweaked for any eCommerce requirement.''
Another businessman, who owns an eCommerce platform asked, if Spurtcommerce has Mobile App too. The team said, they have the Spurtcommerce Mobile App, which doesn't have the Community edition and the licensed version needs to be purchased.
There was another question, if the back end alone can be used for their own front end. This was from one of the Developers, who visited their stall. The Spurt team said, the Spurtcommerce NodeJS back-end can be used for any front end, say React JS, or Android Native or iOS Native too.
There were questions like, how the Spurtcommerce solution is different from Open Cart, Magento, Shopify and Prestashop?
The team answered, ''we are right now into B2C eCommerce solution and we give away the complete source code for customization. So, we do not follow the SAAS model as yet. In future, we are planning. Next, we do not claim that we are better than other eCommerce solutions like Open Cart or Magento. We have the same and standard eCommerce features in our solution too. However, the technology used is completely different and we believe that the technology used will result in a high performing and scalable eCommerce applications.''
In this event, MySQL, the open source database system was also one of the participants. After knowing that Spurtcommerce has adopted MySQL for their solution, the stall members of MYSQL, dropped into Spurtcommerce's stall to find out, why MySQL was chosen for Spurtcommerce. What are the benefits they are getting by using MySQL for Spurtcommerce?
The Spurt team said, MySQL has been in the market for over years now and it is proven as one of the best databases for eCommerce. Enterprises can deploy their applications round the clock with up-time. Millions of queries can be processed at once, thousands of transactions can happen at once, without affecting the performance. The MySQL team was happy to know this and they welcomed Spurtcommerce as one of the use cases. This was one of the pride moments for the Spurt team.
Overall, Spurtcommerce received a great exposure in this Open Source India event, Asia's #1 Open Source Convention Event. The entire Spurt team thanks the EFY group for making this opportunity available for Spurtcommerce